I was a Mardi Gras virgin…
OK, I'm guessing I have your attention now. I will try not to waste it.
I just got back from the Mardi Gras that was held in Mobile, AL. I have to say it was a great time and  a safe place for the family to share this great tradition. I did not see anything during my time that I would want to cover my grandson's eyes from. I did not smell vomit or any other negative odor and just enjoyed the parades (yes, multiple) and the food was awesome.
Susan and I arrived downtown a bit early.
We got our pictures taken and just walked around for a while to see the sights. Lot of vendors selling hats, shirts, horns and other assorted noise makers to garner the attention of the guys on the floats that were going to be throwing the stuff. Anticipation was in the air.
We met Joe Cain as he strolled along the parade route talking to everyone. He gets a lot of credit for 're-starting' Mardi Gras in Mobile after the Civil War.
He looks pretty good for an old guy 🙂
The first parade was a noisy affair with band, sirens and people shouting. It is a little hard to explain how much you will yell to get one of the people on the float to throw you a cheap plastic string of beads or a toy or a Moon Pie but trust me, you'll get into the spirit of the thing and end up hoarse at the end of the day.
We took a break and walked over to the shipyards where some Navy ships are being built.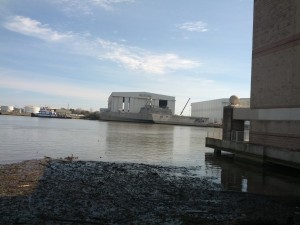 and I tried out the new panorama feature on my smart phone that I just got the day before in a free upgrade (Thanks Samsung and Nexus).

We were getting ready for the evening parades and I saw this.
Dad had rigged up a seat on top of a ladder so the boys had a perfect view of what was to come and the guys on the floats that were throwing the stuff like Moon Pies and stuffed animals (and candy and beads and junk) thought the boys made a good target to aim at. They got lots of loot!!
The evening parades had fire breathing dragons and all sorts of things to see and hear. It was almost too much to take in but I have to say it was just a great time.  Click the link for the video.
Long weekend, short. If you too are a Mardi Gras virgin and have thought it a bit too wild for your taste then head to Mobile, AL and join us next year. We plan to go back and try some more food, fun and maybe I'll bring an air horn to get the attention of the guys on the float. Maybe I won't be so hoarse in the morning.
Thanks for listening,
Jerry Robertson | Associate Broker | Certified Investor Agent Specialist (CIAS)
Keller Williams Realty | Atlanta Partners
678-231-1578 Cell | 678-935-1342 FAX
Profiles: 
   Referral Directory –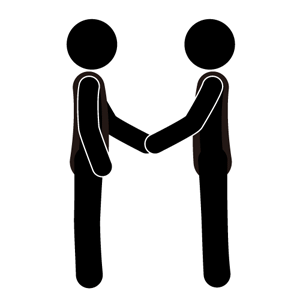 Current Listings – 

PS: We can help anyone move anywhere. If you know someone that could use our services please just introduce us. We'll take great care of them.
It's a good life!!