This subdivision of 509 homes is located in Gwinnett County just off of Collins Hill Rd and near Collins Hill High School. Built by John Wieland  in the mid 1990's. Considered a premier builder in the area, these are quality built homes.
One important point to keep in mind is that this subdivision has decided to prohibit rentals and enforces that policy vigorously. The goal is to encourage owner occupants to live here and take care of their homes to help maintain the property values. One drive through the neighborhood will confirm it's working. This looks like a great place to live.
Here are some details regarding the neighborhood details that might be interesting.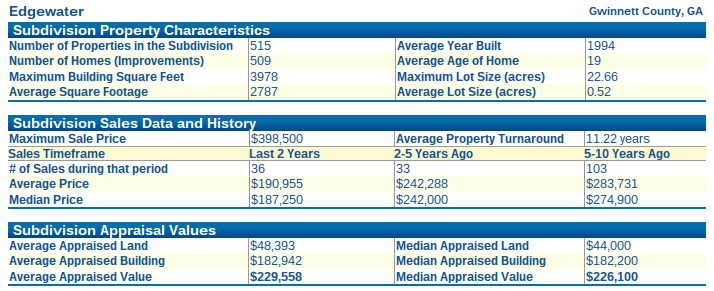 Information on current sales and recent solds is available if you are interested. Click on the links below for current reports. The current sales will update automatically and always be current so check back anytime for the most recent inventory.
Click here for
Current homes for sale
in Edgewater

Click here for
All closed and pending sales
in the last 12 months
in Edgewater

The chart above shows the activity in the subdivision over the last 6 months and you can see more detail if you click on it.
Link to the Covenants and HOA docs. This will take you to the website for the HOA and has the documents that most buyers (and current residents) need regarding the rules and regs of the subdivision.
Schools reports – The links below are provided as a convenient way to see the information and reports from the particular schools. The information contained in them comes directly from the schools or the school systems. There are other sources available online such as GreatSchools.org that can provide additional information.
Collins Hill High School
Creekland Middle School
Rock Springs Elementary
These links above come straight from Gwinnett County Public Schools website. Check it out if you need more info.
Entrance picture
All dressed up for Christmas. Our houses always look the best around the holidays. Even though Christmas is past (only 345 days until Christmas 2014 as of this blog) I think we can use these pictures until the Spring.
One thing I love about living in the South is the short, mild winter. Last Saturday (11Jan) I was out for a walk with my wife in short sleeves. We will see flowers start to poke their heads up in late February and the trees will be in bloom about the same time.
Here are some more pictures I took so you can see the tennis courts, playground, club house, and some of the area.
Feel free to check back here and direct your friends and family here for up to date info. I will be updating pictures and market data just to keep it fresh.
One more thing, if you found this on Facebook, Linkedin or Twitter, you are probably missing some of the articles. Subscribe over to the right and you'll not miss a thing. I send out update emails on Wednesday so subscribe and stay in the loop.
Thanks for listening,
Jerry Robertson | Associate Broker | ALC Member
Keller Williams Realty | Atlanta Partners
4878 Manhattan Dr | Buford | GA | 30518
678-231-1578 Cell | 678-935-1342 FAX
Mobile App to use on the go if you're looking for a new home
Desktop App with the most current market data available
Referral Directory –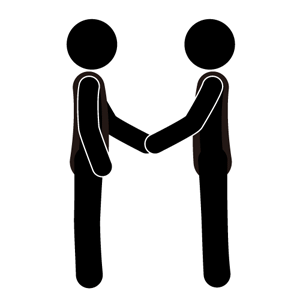 Current Listings – 

PS: We can help anyone move anywhere. If you know someone that could use our services please just introduce us. We'll take great care of them.
It's a good life!!
Join the community
Give us your name and email address and we'll stay in touch. No Spam and we won't share your info with anyone else. Ever.