I have a time machine. You do too.
Been a funny day with lots of references to music. Not sure where this is going even now but let's see.
Here is an album you can get for free from NoiseTrade if you want. I would suggest you tip the artist if you like what you hear but I'll leave that up to you.
I've written about the 'time machine' thing before but I was reminded of it in a article from Jeffrey Gitomer. He wrote about  Leonard Cohen as someone he had great memories of. Check out this album I found on YouTube. I have never done an album like this before so it might be a little annoying with the ads and all but you can skip them if you want. The music is good all the same.
So we all know how music can make us remember things. It can be a trigger to a joyful memory, a sad event or even something that can create anger in us. I got to hear from a friend today how country music reminds him of his dad and grand dad. He talked about the times when he was 6 years old and his dad had the 'band' over to rehearse. To hear live music is a great thing. The albums and recordings are ok but there is nothing like live music.
Gitomer makes a great point in how we can use music to our advantage. Do you have a play list for the quiet time you need to focus on that project that has to be done by tomorrow? If you don't want to use the music, here is another idea that I found.
It's called the Isolator.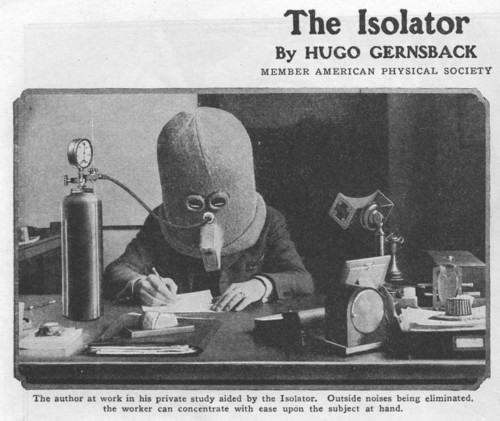 I understand that you had oxygen pumped in, it's sound proof and you got to focus through some small slits in the eye pieces. This is to help you focus on the one thing you're supposed to be working on. Just a thought.
Anyway if that does not appeal to you then maybe music is the answer.
Back to the live music idea, I am still digging into the house concert as we move into the second quarter of the year. It's been busy and I have been distracted but know that I am still working on my first concert. I have figured out we can get about 30 people in the house, been reaching out looking into who we get to come sing and how we make it sound great. Stay tuned for that.
I am also working on the idea for a larger venue like a club house or outside venue of some sort. If you have any ideas I would love to hear about them. Pollen is a problem in Georgia but as the Spring advances that gets better.
So how do you use music? Do you have a play list to share? Something you love to listen to over and over? I would love to know what your ring tone is on your phone.
Here's mine.
Thanks for listening,
Jerry Robertson
678-231-1578 Cell
Join the community
Give us your name and email address and we'll stay in touch. No Spam and we won't share your info with anyone else. Ever.