Tuesday Night Tunes – I can't believe you do that!
"I can't believe you do that!" was an exclamation I got when I said I was going to a concert. It was not about the fact that I was going but that I had never heard the guy that was singing and I was going to spend a couple of hours (turned out to be about 3) sitting on a deck in Lawrenceville listening to him. Who is Jeff Black? Well I don't know if I can answer that question but I can certainly share some of the music I heard Saturday and I bet you'll be happy to spend a few minutes here too.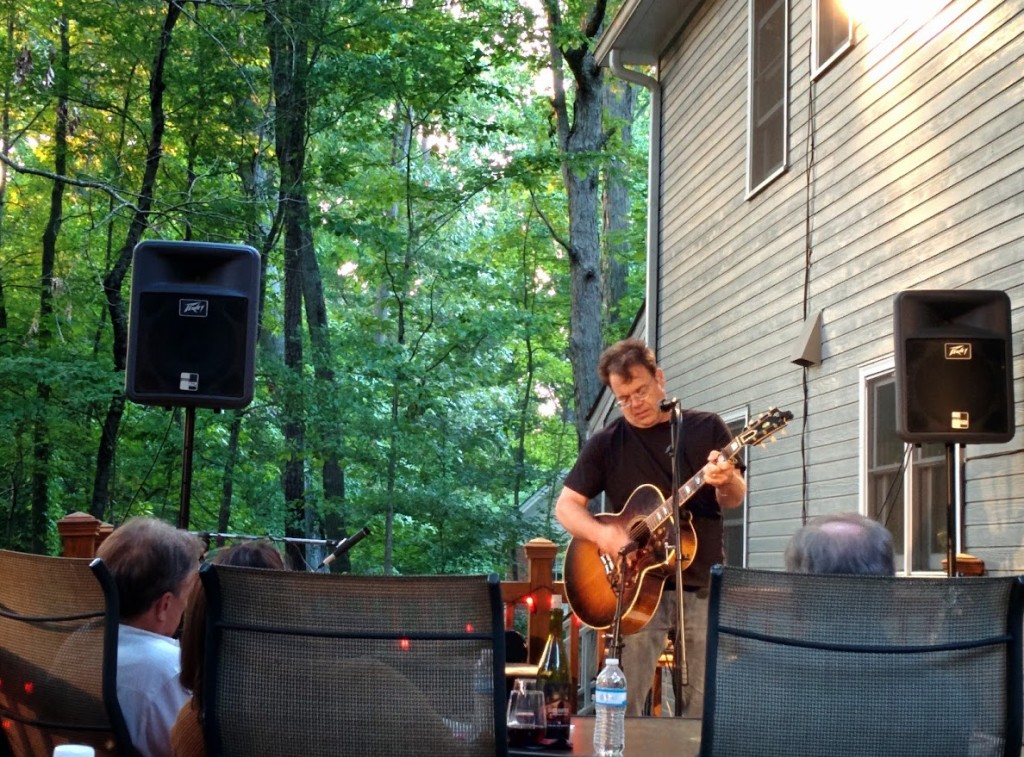 Bowman House Concert Series is a place I know about and have enjoyed for the first time, twice. Last Saturday, Art hosted Jeff Black and it was spectacular. I found this clip to share.
It was short notice but I signed up as soon as I heard about it. Art keeps a mailing list and I have been on it for years. Man, am I glad I went this time.
I said it was something I had done for the first time, twice. Last time it was indoors in his family room with about 40 people in a tight space. Last weekend it was outdoors on the deck under the trees. It was a bit cold but the food was good (we brought a covered dish) and the company was friendly.
The music was perfect.
Jeff opened at 8pm on the guitar. He said " I better do these new songs before I lose my nerve" but they were nothing to be nervous about. He hit a home run and it just kept going. Under the canopy of leaves, watching the humming bird come dip into the feeder while we all sat watching the evening light fade and hearing Jeff's voice brighten.
The milestone in all these concerts are the stories. The passion behind the songs, why he wrote them and who has performed them. He said a few words about this one being wish list. People he wanted to be a child and maybe still wanted to be somewhere in the middle of his heart.
He picked up a banjo before the first break and shared a couple of songs on that thing. Talked about tuning it like a guitar the first time he played because that was all he knew. Shoot, I figured there was only one way to tune something like that too. Made me not feel so dumb to hear him say it.
At the break I got to meet him and share a minute while he signed the CD I bought. Here is one more cut from the evening.
After the break he got on the keyboard and competed with the train in the distance but he won. Great songs and even a Garrison Keillor impression <smile>. You had to be there to get it.
It's might be hard to understand why I go to listen to artists I don't know. Yeah, I guess I could be disappointed but I suspect if they play at Art's house I never will be.
The reward is that I get to hear something special each time I go and I can't wait to do it again. I also get to meet someone that just might come play at my own house concert some day (soon). Stay tuned for that 'cause It's coming. I am really excited. Not sure who's going to be playing but would you want to come listen to someone you have never heard before? It will be awesome!
If you want a little more Jeff Black I found him on JeffBlack.com and this is a list of all his albums. You can stream them for free but I would encourage you to buy something. The artist is worth his pay and this is a great way to support him. In any case, I hope you will share it so maybe a few more folks will know who Jeff Black is.
Hope you have a great week and enjoyed the music. I know I did.
Thanks for listening,
Jerry Robertson
678-231-1578 Cell