Green River Ordinance – The concert – Tuesday Tunes
I'm not even sure where to start! We went to see Green River Ordinance (GRO) last Friday night at Terminal West. It was surreal in a lot of ways.
These guys have been together as a band for almost 16 years. The new album is called 15 and it's just as good as anything they have ever put out.
We had VIP tickets and that was special. We got there early, were let in 45 minutes before the doors officially opened and it was perfect. There were 12 of us that bought VIP tickets before the concert and that was all that were let in. You could not buy those tickets at the door (sorry for the guys that wanted to) but it really was special to get to meet the band, talk to them individually and get a special acoustic concert before the show even started. I could have gone home after that but I am really glad I didn't.
That whole VIP experience was like having GRO at a house concert. Now that would be fun 🙂
Here we are with the band and our friends Mark and Shawnda. What a great time!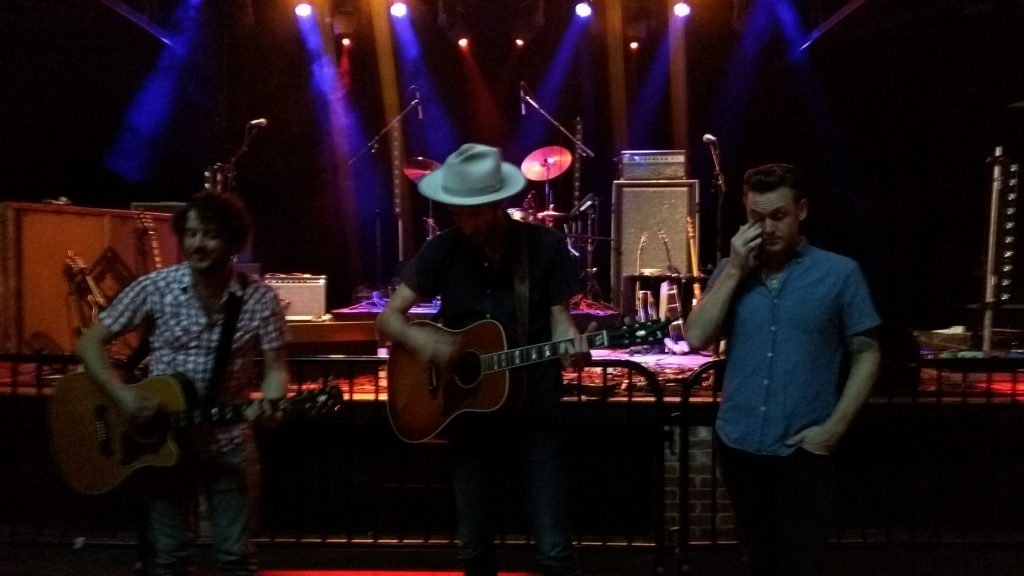 This is the picture we took during the private concert. I was literally less than 10 feet away. Amazing voices and some great new songs. We got to ask questions and engage for about 30 minutes and it was worth the price. Loved it!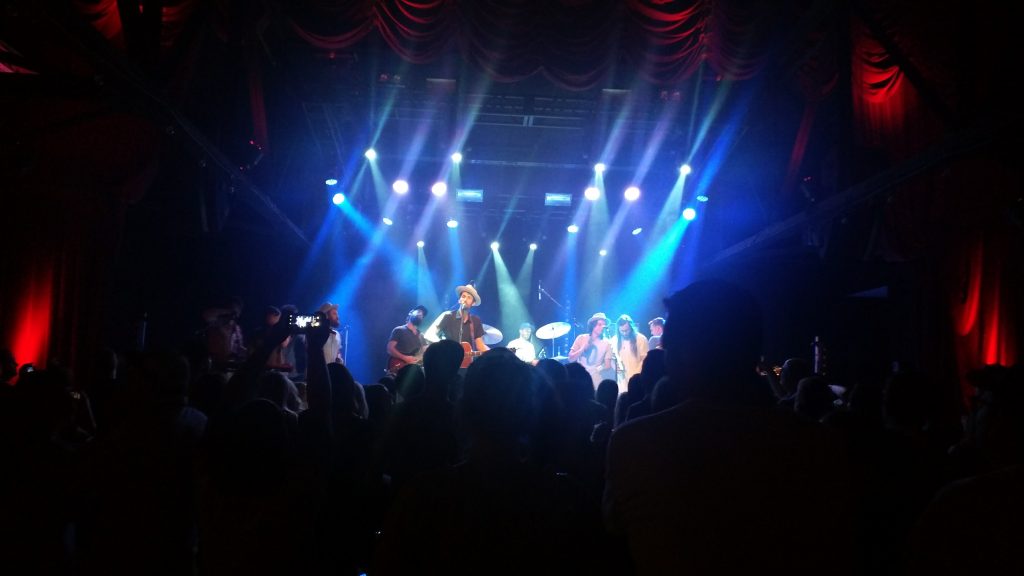 The venue at Terminal West was a lot smaller than I anticipated. Not sure what I expected other than I expected bigger. I think it was only about 50 ft from the stage to the back of room. We were sitting in front of the sound board and you can see we weren't that far away from the picture above.
We were able to stake claim to one of the few tables and chairs available since the VIP access let us in before the crowds. There were only about 6 tables in the venue so that was a nice advantage.
After that we wandered into the restaurant attached to the venue and got some tacos, fries and some beer. Not a bad way to wait for the show to begin. The food was good and the service was too. When they messed up the order for Mark, they apologized, gave him a 'table number' and he came back to the music venue. Once his food was ready they came and found us. I'm not upset when things go wrong if folks will take responsibility and do what they can to fix the problem. These guys did.
By then it was about 8pm.
The music started with the Castro. Here is a clip of them doing some acoustic work.

It was mentioned that Jason Castro was in the top 4 a few years ago on American Idol. You can check out a video of him on that show if you want. Click here.
There is no way to share what it really sounded like on Friday but this is one of the songs they did and the crowd was dancing! I found too that a lot of the crowd were singing along with them. I didn't know the words but it was obvious many did.
After that The Roosevelts came out. Here is a clip from SXSW where they played a song I really liked.
They were louder than Castro but still really good. The music was a bit more country and somehow the mood was darker in many of their songs but I guess that's the country part. I don't listen to country music much but these guys are fun on stage and had great interaction with each other and the crowd.
Once they finished it was about 10pm. Sorta late for a concert to start in my opinion but then I'm not 20 something anymore (remember, I said it was loud? Maybe I am old :0). Once GRO took the stage though it was ok. We settled in for about an hour of great music.
I can't possibly give you the music they gave us but this one was by far my favorite and it was the first one I shared on this blog from GRO. I loved the engagement they had with the crowd. They even took a minute to tell a story of a couple who shared GRO music back and forth in letters and emails. Back and forth between the US and Afghanistan. They 'dated' this way for a long time and when he got back home they got married. That couple was in the crowd and it was a perfect moment.
This is the song they shared as the one they loved the most. I got to see the couple out on the floor together dancing to it. Perfect.
Josh (lead singer) said from the stage that one of the greatest gifts was to hear their songs, their music, their words had made a difference in someone's life and to hear them come back to them on the stage. These guys are the real deal and I recommend you go see them if you can. They are on tour right now so check out their website for details.
That was the evening for us. It was all over about midnight, we got our VIP swag (signed poster, music download card) and headed out.
I would certainly look at Terminal West as a venue to go to again and am looking at GRO schedule to see if I can catch them again this year 🙂
I have to say, it is a good thing to write about that night because it brings the memory to the front and to hear the music clips really help me live that moment again. I don't go to many concerts but maybe I need to rethink that.
Thanks for listening,
Jerry Robertson
678-231-1578 Cell