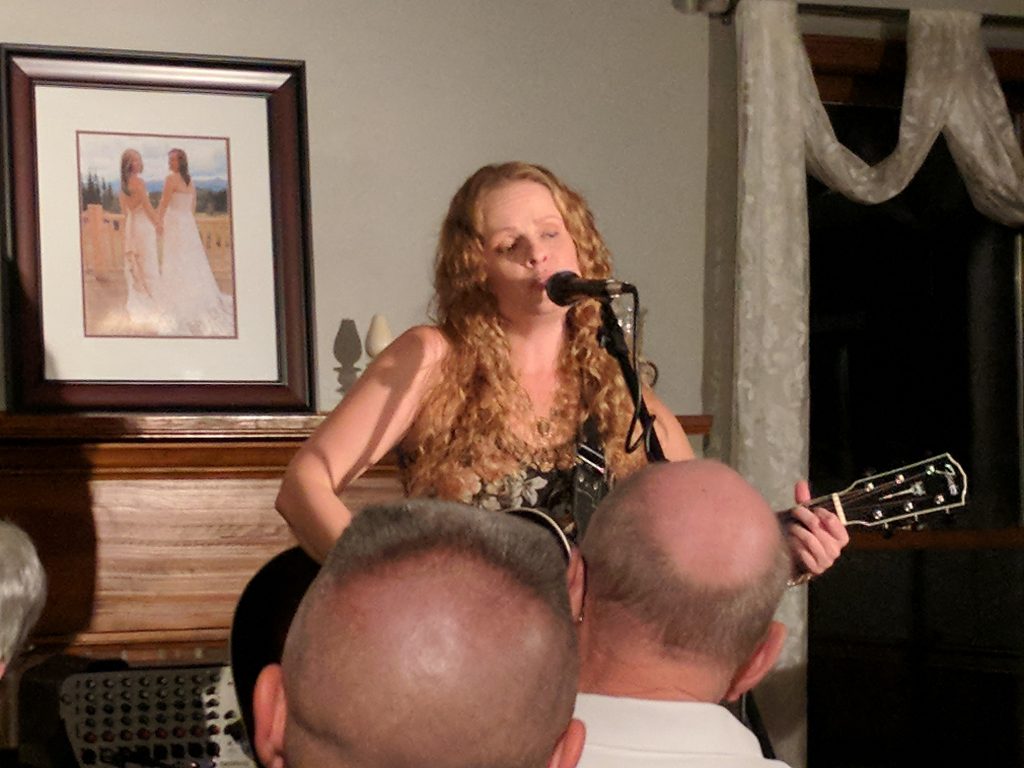 Stories are the heart of a house concert. Alice was hosted by Bowman House Concert Series a few weeks ago and I have always planned to write an article about that night. Planning and Priority are two different things however and I am just now getting to it.
This concert was on Sept 23, 2017 and as all house concerts are, it was fantastic. I've learned to go even if I don't know the artist because it's not all about the music, it's about the experience. I promise this one was not a disappointment.
Let's start with one of the songs she did that night. Here is the 'official' version from youtube.
She told about Jerome, AZ and spent some time talking about her times there and all the history of the place. She learned about the fires in the mines there that burned for decades. Yes, decades and out of that came a song. It was named after the Cleopatra Hill the town was built on and you'll get the rest of the story if you listen to this one.
Stories like this are what make house concerts so great, even if the music is not your usual choice. I would encourage anyone to try a house concert, even if you have no idea who the artist is. That is part of the adventure. There is a lot better music in the world than gets played on the radio.
Most of Bowman's concerts are folks I've never heard because Art and I are not identical in our music choices but he does a great job of getting good music, great stories and engaging singer / songwriters in his house or on his deck.
As I sit here listening to the songs again to pick out some to share I have been transported back to Art's living room. My 'place' in that room has always been the couch in the back of the room. Now that's not too far from the front of the room as you can see in the picture at the top so don't feel bad for me. It's where I choose to be.
I am always pleased to meet the other folks that come to Art's concerts too. I've met several and would call a few friends. They have shared their stories and introduced me to great musicians and even helped me get a few folks in my own house concerts. I love having them in the house and am planning another soon so watch for that.
Back to the concert, Alice shared this story too. She rode a Mega Bus across a big chunk of Texas and met the young lady in this song. She met some others along the way so check this one out for a great message. I hope to learn from the people I meet too.
These folks write songs out of their life and sometimes it's not pretty. I believe the best songs come out of pain, struggle and overcoming both. I've heard Travis Meadows say 'It's cheaper than therapy' and I'd have to agree. Just writing can help me get past a rough spot and I'm glad to be back. I got to see Travis at the Red Clay Music Foundry last week so maybe I'll write something on him too. He has a lot of great songs and I know many came out of his pain too.
But gratefully it's not painful to listen to the music that comes. It invokes a lot of thinking and emotions but that is the nature of music. It's healing in it's very nature. I can't explain it but I'm sure someone can. How can a song with no words bring tears to our eyes. It does but I don't know how. The words that come along with them are sometimes just a bonus but either way it's something I'm grateful for.
On a little lighter side, I said Alice could yodel and here is a sample of that. I remember my dad listening to country music and I recall it involved yodeling. It's not something I've heard much of lately but Alice is doing her best to bring it back and it reminded me of my dad. Love that.
She tried to teach us to yodel but without much success. That is probably a good thing in my case because if I was skilled at yodeling I might not be friends with some of you at the end of that. Just sayin'.
So this is the first thing I've written in a while but it won't be the last. Not sure all of it will make it to the blog this month but in recognition of National Novel Writing Month (yes, it's a real thing) my plan is to write at least 500 words a day for 30 days. I won't be writing a novel but I will be writing.
Now all I have to do is make it priority.
Thanks for listening,
Jerry Robertson
678-231-1578 Cell
Join the community
Give us your name and email address and we'll stay in touch. No Spam and we won't share your info with anyone else. Ever.