Virgil Fox. I'm guessing you don't but I wanted to tell you a story about my experience with him. It was 1972 and he was touring with the Revelation Light Show playing Heavy Organ from JS Bach.
I was 18 and had just graduated high school in Indiana in May. As best I can remember it was cold and must have been Fall or early Winter. I was in technical school getting my Associates's Degree in Electrical Engineering Technology and working at Sears in the paint department. School in the morning for 5 days a week and work in the afternoon into the evening, 7 days a week.
Even with that schedule, I met a girl.
Sylvia was about my age, working at Sears and we connected.
I don't remember how I got the idea of going to a Virgil Fox concert but I remember it and that evening very clearly. Keep going and you'll get a clip from one of those concerts but let me finish the story.
I asked Sylvia if she wanted to go and she agreed but when I told her it would not be over until close to midnight she said I had to talk to her dad. He had an 11 pm curfew on her. We agreed if he said 'no' we'd leave in time to be home but we were going either way.
I arrived early at her house and met her mom but was anxious to get past the curfew hurdle so I asked to see her dad. I was told he was in the garage, painting the truck. That puzzled me a bit until I saw what he was doing.
He had a whiskey bottle in one hand and a brush in the other and he was indeed painting the truck. With the brush. It did not look good but that was none of my concern at the time.
We talked a bit and the answer to my question ultimately was 'yes'. He figured Sylvia could handle herself and off we went to the concert. We had tickets for Clowes Hall at Butler University in Indianapolis on the front row of the balcony. In my mind, perfect seats for the event.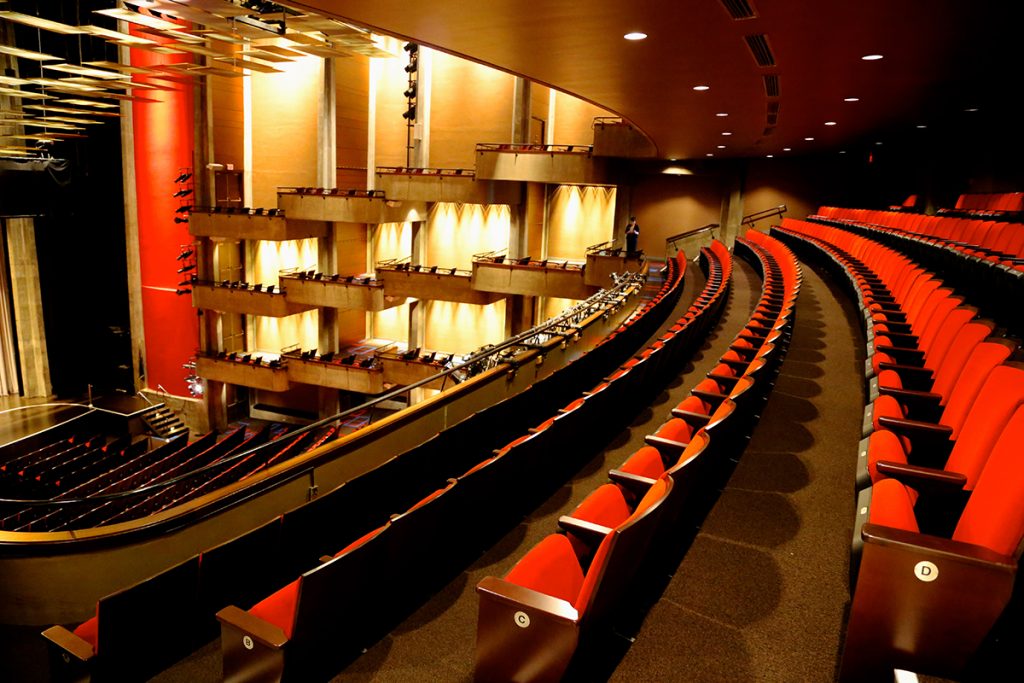 This is from their website so you can see where we were. Mr. Fox came out on stage and discovered the microphone did not work. Unflustered, he stepped toward the front and said in a clear voice "Can you hear me?" and we all could. The acoustics in that hall are phenomenal. The crew got the mic working later but at the opening, he just spoke clearly and got things started.
I found this clip of Mr. Fox playing that organ in front of the Revelation Light Show which is exactly how I saw it. He had some things to say to his detractors and displayed his skills as a showman. I'm not sure he was as aggressive in the show I went to but I loved his presentation here.
I remember the audience ranged in age from small children to folks as old or older than I am now and we were up on our feet, dancing in the aisles. He was a great entertainer. He pulled you in and simply would not let go until the very end.
Imagine sitting in the hall, the lights go out after intermission and you can see some movement on the stage but it's really dark.
And this starts
It still brings chills to my spine.
This article started to form in my head as I listened to this song recently. It was not Mr. Fox playing but the music brought this story back to the front. I found a copy of his Heavy Organ concerts on LP, bought it and have been listening to it this morning. I just wanted to share some of the experience with you all.
Thanks for listening and I hope you find some enjoyment from the time spent. I certainly did.
Thanks for listening,
Jerry Robertson
678-231-1578 Cell